The Kansas City housing market is attracting attention for its dynamic and competitive environment, covering both Missouri and Kansas. This article provides a comprehensive overview of the housing trends in the region, covering both states individually.
Kansas State Housing Market Update:
The state of Kansas has witnessed changes in its housing market, with a notable decline in sales through the first half of the year. Despite a nearly 15% decrease in sales compared to 2022, it remains a sellers' market due to tight inventories. In July 2023, home sales in Kansas fell by 18.7%, but home prices continued to rise, with a 4.9% increase in the statewide average sale price. Keep an eye on mortgage rates, which have seen a significant increase.
Missouri Housing Market Trends:
Missouri's real estate sector, as of July 2023, reflects a rise in the number of listings, though year-to-date figures show a decrease in the number of properties sold. The median residential property selling price has increased by 2.9%, reaching $247,000. Monthly details for July 2023 indicate a decrease in the number of homes sold, while both median and average selling prices increased. Despite a decrease in the total dollar volume, the market suggests potential growth and stability.
Kansas City, Missouri Housing Market Report:
The Greater Kansas City housing market statistics for August 2023 reveal a 4.9% increase in the average sales price to $358,517. Home sales were down 15.1%, and pending sales decreased by 14.4%. The average days on market remained at 33 days, indicating a seller's market with high demand. The forecast for 2023-2024 suggests a positive growth trend in the housing market.
Kansas City, MO Real Estate Investment Overview:
Kansas City is seen as a favorable place for real estate investment, offering affordable turnkey properties. It is the largest city in Missouri, exhibiting positive trends in real estate appreciation. With a growing job market, diverse employment sectors, and a low unemployment rate, Kansas City presents an attractive environment for investors.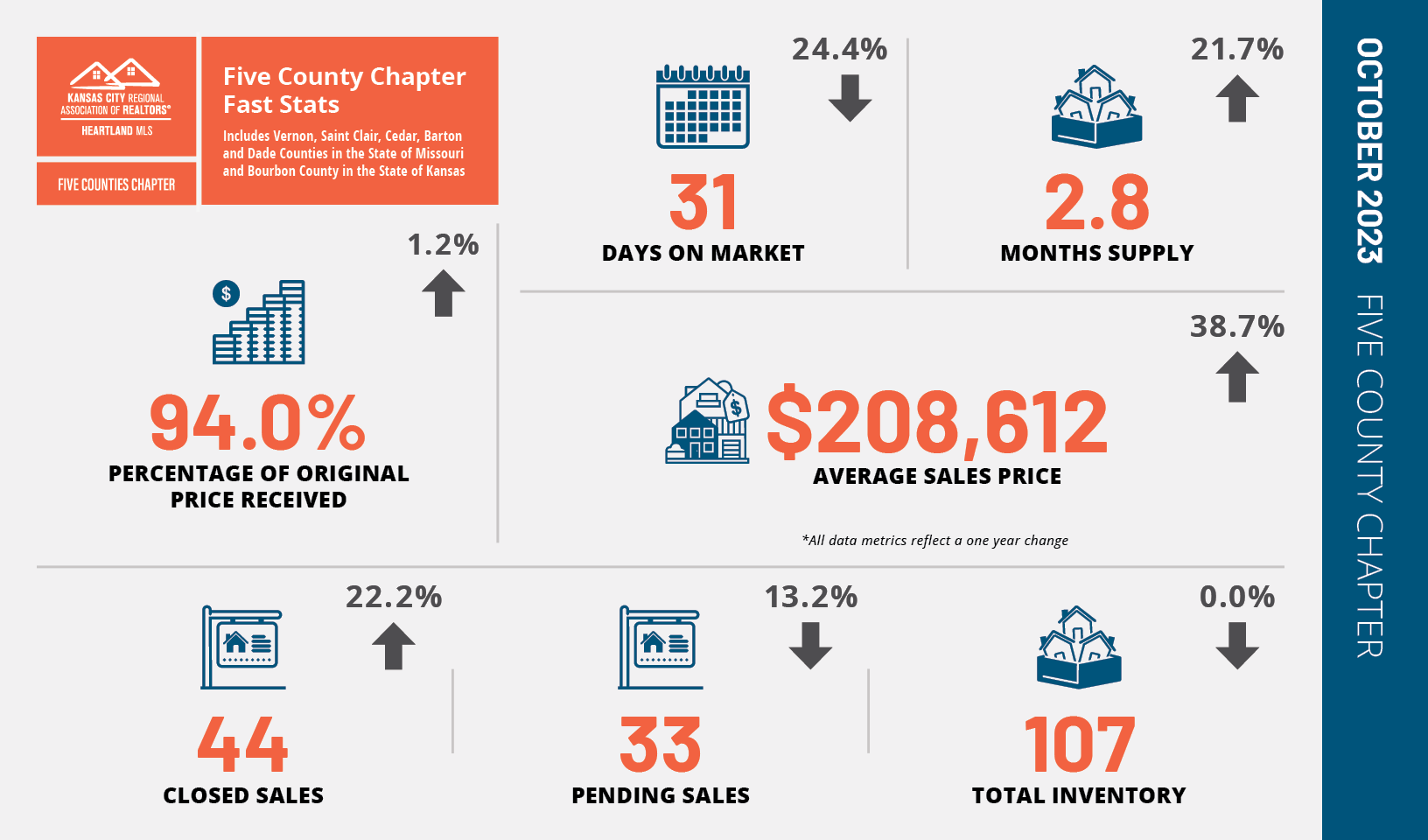 Credits: Kansas City Regional Association of Realtors (KCRAR)
Key Points:
Kansas City boasts rich culture, favorable weather, and distinct features like its barbeque cuisine and jazz heritage.
The city's affordable cost of living is a significant advantage, making it an appealing choice for residents and investors alike.
The housing market is currently a sellers' market, with high demand, increasing prices, and properties going pending within a short period.
Conclusion:
Kansas City's real estate market presents a promising landscape for both investors and homebuyers. With positive trends, growth forecasts, and a seller's market status, the city offers a diverse and vibrant environment for real estate opportunities. Investors should closely monitor the evolving trends to make informed decisions in this dynamic market.
Additional Market Data